(photo credit) Tom Bihn

Lifefactory Glass Water Bottles

WHY? TO KEEP MY ALKALINE WATER FRESH
I've recently acquired a water filter that turns my tap water into alkaline water. My water tastes soooo smooth and delicious and clean and fresh! I'm blessed to live in a part of Canada that has non-fluorinated clean water, so it's simple to convert it into a delicious alkaline water.
I didn't realize how much better alkaline water is until I got off my butt and got my filter. My daily sips of water tastes better; green tea tastes better; herbal tea tastes better; coffee tastes better. My sole-brine tastes better. We're talking heaps better. Oooh-wee!
BUT…
my alkaline water ceased to taste better as it sat in my steel-water-bottle all day. It got this odd metallic aftertaste by afternoon. It's infinitely better tasting than a plastic water bottle, but still.
What to do? I searched for an alternative and found it. I am now a happy owner of many glass water bottles. No more metallic after-taste!
I researched about glass water bottles for days before I found my fantabulous glass water bottles, including the Lifefactory one (above pic). I love it! I also like my Starbucks Takeya glass bottle….my Flaska glass water bottle…my reusable Voss glass water bottle….and more. Scroll down to see where my research took me:

LIFEFACTORY GLASS WATER BOTTLE
I have this stylish and convenient glass water bottle — a 22oz (650ml)  glass bottle with a sunny orange silicone sleeve to protect the glass from Lifefactory. I bought mine at the Vancouver-based Water Matters, but you can find retail locations here (including Whole Foods). I'm not going to lie, I really wanted a raspberry silicone sleeve but this colour only comes in a smaller bottle size. *sigh*
Here's the goods on Lifefactory's Glass Beverage Bottles:
BPA, phthalate, PVC, latex, lead, and polycarbonate free (chemical free)

clear soda lime glass with no chemical leaching and no metallic taste

wrapped in a modern silicone sleeve that's free of plastics and 100% non-toxic

widemouth bottle make it easy to add ice, citrus slices, and makes it easy to clean.

silicone sleeve provides a great gripping surface and helps to prevent breakage

dishwasher safe


16 oz beverage bottles (6 colours)

22 oz beverage bottles (6 colours)

4 oz or 9 oz baby bottle with nipple (9 colours)

9 oz beverage bottles with cap for kids (4 colours)


glass bottles are custom made in France

silicone sleeves are made in United States

polypropylene plastic caps are made in Poland.

glass and plastic parts are recyclable

silicone sleeves can be sent back to Lifefactory where it can be re-ground to make outdoor playground mats or mats for barn animals.
I know, I know…it's glass and I'm a klutz! Lifefactory does sell replaceable glass bottles (and even caps if you loose them). This glass bottle is quite sturdy — it's not delicate like a tumbler, rather it's more like a tall glass jar. So yes, it's not exactly the lightest bottle out there but it's sturdy!

Even better, the Vancouver-based eco-friendly company Lavish & Lime shows off this glass bottle's resilience in this great youtube video that demonstrates how durable the silicone-sleeve glass bottle is by dropping the bottle on slate steps! Watch here.
Here are some other glass water bottles I found while researching:
LULULEMON PURE BALANCE GLASS WATER BOTTLE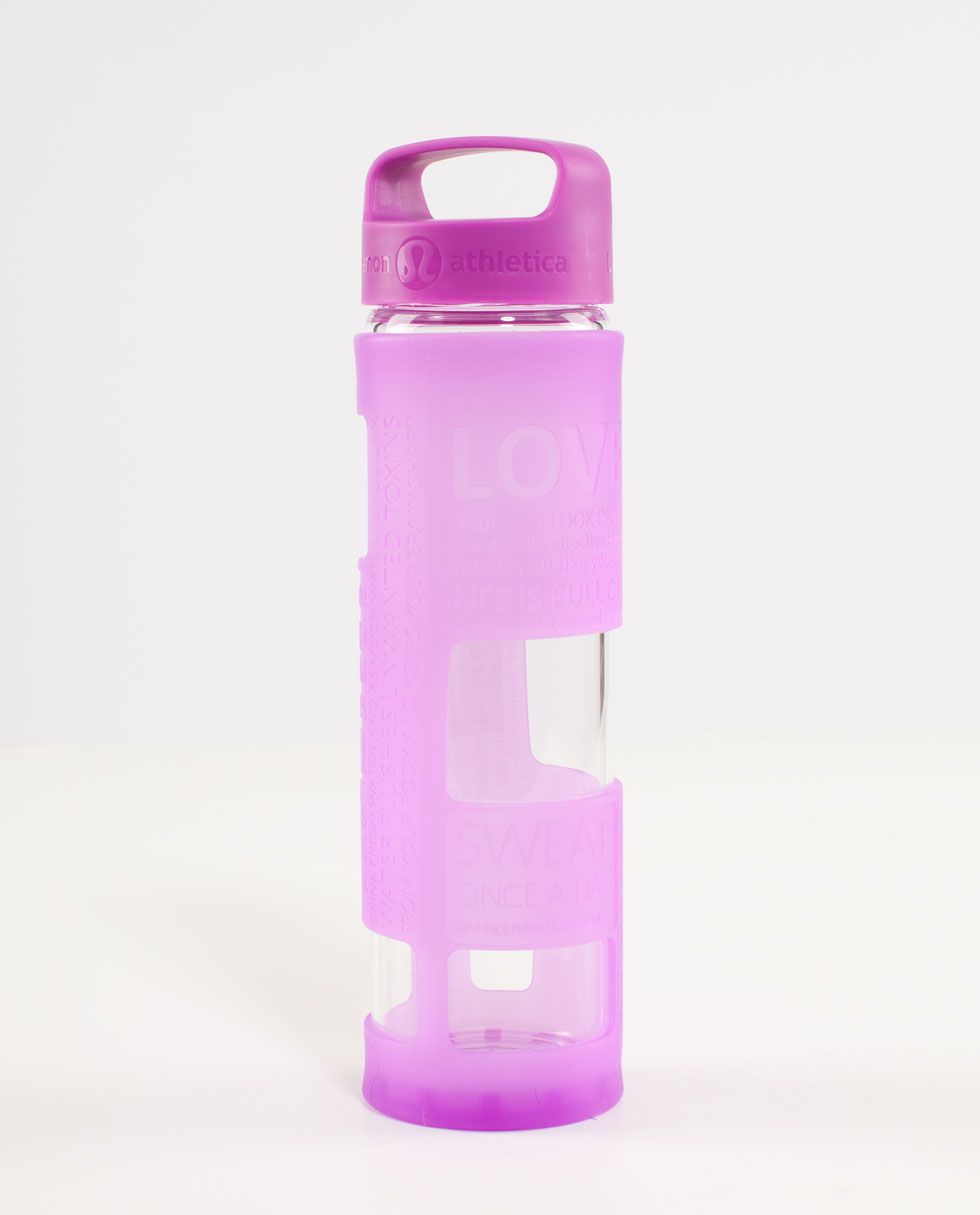 I recently (February 2012) went into Lululemon to peruse the new running line, when I saw their new Pure Balance glass water bottle. This 19.5oz glass water bottle has a silicon sleeve that comes in violet (above), pink, or blue. Perhaps they'll have different colours as the seasons change.
It was a good size, much lighter than the Lifefactory bottle. However, I still prefer my Starbucks glass water bottle (scroll down) because I like its pop-up lid that's attached to the rim.
With screw-on type lids, like this Lululemon one, I've lost the lid by misplacing it somewhere, or I've accidentally screwed the lid back on improperly which led to water leaking into my bag. Gasp!
On the other hand, the Lululemon and Lifefactory ones I own hold waaaaay more water than the Starbucks one, which makes it more useful.
[EDIT: Oct.2012] FLASKA GLASS BOTTLE
These Flaska glass water bottles come straight out of Europe. Oh la, I'm going to try this one out – I like the sleeve! Apparently the 16.5oz  glass bottle is made with "glass programming" which restructures the water and enhances its quality — you apparently end up with a softer taste of water. It's made from extra-thick tempered glass, which I'm always looking for in glass bottles since you'd want a sturdy one.
You can choose the sleeve — or "sock" — that you wish. They even have an eco-friendly version called Flaska Organic with an organic cotton sleeve and a cork cap. There's also neoprene sleeves imbedded with Swarowski crystals, or imprinted with butterflies, flowers, raindrops, vines, etc.;  classic sleeves in black, blue, or orange, and more! See their webshop for all the choices HERE.
Check out their sites: Flaska North America HERE…Flaska Europe HERE….Flaska UK HERE….
I really enjoy using my Flaska glass water bottle. It has a hot pink sleeve imbedded with sky-blue butterflies and adorned with Swarowski crystals. Yup, it's pretty bling. Uncorking my bottle is always interesting, because it looks like I'm going to have an apertif midday. The "lid" is really a cork-like contraption! Only…I wish the cork was attached to the sleeve because I have misplaced it here and there. Erm, I've always found it but one day it may just roll out into the ether on me! The scuba-diving- suit-material that makes up the sleeve is sturdy and fabulous and feels comfy in my grip…and no slips! Best of all the "glass programming" truly does make my alkaline water tastes softer (if you like that kind of water taste).
[Edit: Nov 2012] BKR GLASS WATER BOTTLE
I just discovered the BKR glass water bottle (pronounced "beaker") at this fancy shmanshy pharmacy in my city the other day. The photo above does not do this bottle justice. In my hands, the BKR is a gorgeous, stylish jewel of a glass water bottle.
The silicon sleeve comes in the most glorious array of jewel tones that just pop. I luurve their colour names: Night (purple-black)….Kitsch (neon orange)…Betty (plum fuschia)…True (electric blue)….Lush (blue-green teal)…Velvet (oxblood burgundy–hello, people, the colour of the season)…Jelly (candy purple)…Fog (grey)…Canary (yellow)…Surf (tropical blue)…Candy (pink)…Smith (green apple)…Crush (coral)…Jet (black)…and Julep (emerald teal). My favourites are Velvet — such gorgeous indulgence!, and Canary (happy sunshine).
The BKR glass bottle is 500mL (16 oz) with a silicone sleeve and retails at $28 US. It has a food grade polypropylene cap + silicone gasket. It is FDA approved, BPA-free, BPA replacement free, phthalate free (woo hoo!). It has a small one-inch opening for no-spill sipping. It apparently fits most cup holders – 3.18 inches wide, 7.88 inches tall. It's lightweight (I longingly cradled it at the pharmacy), and 100% reusable + recyclable. Plus you can safely clean in the dishwasher. Kudos to BKR's philanthropy — portion of proceeds benefit the Obakki and Canary Foundations. Oh, if you accidentally break it in the first 90 days, BKR will replace it for you (conditions apply, of course).
Find a retail location (USA, Canada, UK, Indonesia — the latter is random!) near you HERE. Otherwise, order it online HERE. I found them at Finlandia Pharmacy in Vancouver, Canada…oh how I want one! But I have some lovely glass water bottles in use already. I hope you try it, let me know how you like it. You can even by them at Chapters/Indigo in Canada. 
I really want this one with the heart – it's call Momo Heart. HERE.
CAMELBAK eddy GLASS WATER BOTTLE
Ah, Camelbak finally has their own glass water bottle. It's called the 'eddy™ Glass.'  You can get it wherever you find Camelbak for $32: LLBean, Amazon, REI, Camelbak Canada, Camelback USA.
The guts: 
* Naturally BPA-Free * Lead-free glass * .7L water bottle won't retain odors or tastes * You can sip without tipping thanks to our patented flip-top bite valve technology * Silicone sleeve that adds protection * Available in 4 colors (Lime, Aqua, Charcoal, Purple) * Dishwasher safe *
I want! I like the idea of having this protective bamboo exterior. Plus, its pretty stylin'! It's shame it's only found in the US 😦
created by outdoor industry veterans

bamboo is sleek, durable, stylish and renewable

bamboo outer acts as a natural insulator for hot/cold beverages and protects the glass


easily removable, dishwasher-safe, 60 percent recycled, durable glass interior

BPA-free glass interior

wide mouth for easy cleanup

cap, bottom made from BPA-free plastic


17 oz @ $25.00 US

Buy online

here

@

The Bamboo Bottle Company
Takeya, a Japanese design company, has these beautiful modern glass bottles. I love the frosty look of their silicone sleeves. Very sleek and modern.
dishwasher safe

free of any toxic chemicals.

silicone jacket provides soft grip & protects the glass bottle

airtight leakproof twist cap

bottle & silicone are dishwasher safe

Modern Glass Water Bottle (pictured right): 18oz (5 colours)

Classic Glass Water Bottle (pictured left): 22 oz (5 colours)

Classic Glass Water Bottle (pictured middle): 16 oz (5 colours)
***********************************
For more GLASS BOTTLES (from Starbucks, Faucet Face, Kerplunk, Tkaro, Bottles Up, and Libre (under the cut):
CONTIGO® PURITY GLASS WATER BOTTLE
Well, I know Contigo® as the the metal-water bottle people. I used to have a metal one myself and loved it because it kept my water really crisp and cold all day long — but the metal gave the water that tinny, metallic taste that just wasn't pleasant for my finicky tastebuds. But now I'm happy because Contigo has a created their new glass water bottle: The Contigo Purity Glass Water Bottle.  I recently saw it at Target and Costco and Amazon, fyi. I should get one before they sell out, especially since I'm really liking the carry-strap!
The guts:
* Volume 20 oz, Height 10.3 @ $14.99 HERE
* BPA, BPS, Lead and Phthalate-free and made with no plastic components
* Glass, stainless steel, and food-grade silicone materials. A silicone sleeve protects the bottle.
* Colours: Grayed-Jade (Teal) – shown above, Radiant Orchid (Pinky-Purple), or Smoke (Gray)
* Stainless steel carry strap for on-the-go
* Top-rack dishwasher safe.
* Lifetime guarantee
Saw the Bios H2O Glass Water Bottle at Canadian Tire…but different than the one of the Bios H20 website. The one at Canadian Tire had a red silicone sleeve with maple-leaf cut-outs all over it. Very patriotic. Check it out at your local Canadian Tire if it pleases you. The website offers two types of glass water bottles: double-wall or single-wall glass.
*400 mL / 13 oz  * Removable infuser * Double walled glassFits in most standard auto cup holders * Ideal for hot and cold beverages * Non-porous
Glass | Single Wall Bottle
*410 mL / 14 oz * Stain resistant * Single walled glass * Exceptional durability * Non-porous
AQUAOVO THERM-O
Recently saw this Aquaovo Therm-O Eco-thermal glass water bottle in the home department at Target. Chic and stylish, I say. You can also find it at Amazon, too.
The guts:
* Glass bottle, BPA free plastic
* 500ml (16oz) 7 x 19cm, 0.45kg (2,75″ x 7,5″ 1 lb)
* Includes stainless steel infuser
* BPA and phthalates free, FDA approved
* An eco-thermal insulated borosilicate glass vessel.
* Double walled construction keeps drinks hot or cold without getting sweaty or hot to the touch.
ELLO GLASS WATER BOTTLE
I also saw the Ello Glass Water Bottle at Target. It's also sold at Meijer and Amazon. It comes in a couple of designs and colours (grey, pink, teal).
The guts:
Odor-free, stain-free, clean-tasting glass
Leak-proof bamboo cap with carry loop
100% BPA-Free
Eco-friendly materials
Hand wash lid, bottle is dishwasher safe
Not intended for hot beverages
20 oz. / 591 mL
Ello also makes glass water bottles with silicon-sleeves (like Lifefactory). Check them out here.
The full name is a mouthful: Miu Color Stylish Portable Real Borosilicate Glass Water Bottle with Nylon Sleeve. You can also get it at Amazon.
The guts:
-Black nylon sleeve, 550 ml, 23.5cm Height, 6.5cm diameter.
-Fits most standard car cup holders
-Made of ultra clear borosilicate glass (not plastic), heat-resistant, no worry of BPA or plastic taste
-Cap made of stainless steel, seals are made of food-grade silicone
-Leak-proof, odor-free, simple design and environmental health
-Hand washing recommended; lid is dishwasher safe
GLASSTIC SHATTERPROOF GLASS WATER BOTTLE
Well, Glasstic claims its glass water bottle is shatterproof! Their website has a video about it here. It's dubbed "your worry free, non-toxic, eco-friendly alternative to metal, plastic, or worrisome glass bottles with rubber sleeves."
The guts:
-$19.99, 16oz @ Glasstic or Amazon.
-Leak Proof Flip Cap Lid with Handle and Lock. All 16oz lids are interchangeable with all other Glasstic Products
-BPA-Free, lead free, cadmium free, toxin-free, worry free glass water bottle products
-The ONLY Shatterproof Glass Water Bottle on the Market – Completely Unique Patented Design
-The built in handle snaps open to allow for easy carry over both short or long distances.
-A 16 oz. soda-lime glass bottle, food grade silicone seals, BPA-Free Tritan shell and polypropylene cap and base.
-Tested by both TUV and SGS, both global leaders in product testing and certification services for both lead and cadmium in the glass and on any inks.
-Glasstic will replace glass bottle if it breaks or cracks.
-Not intended for carbonated beverages.
-Do not freeze. This will cause the bottle to break.
-Do not use abrasive cleansers, scrubbers or bleach cleaners on product. They may harm the outer shell and lid.
-All parts are dishwasher safe.
–Colours: black, blue, purple, white, green, pink
–Designs: Pink Love, Grey Love, Tribal, Grey Retro, Green Retro, Grey Peace, Blue Peace, Ying Yang
VATIRI GLASS WATER BOTTLE
ANCHOR HOCKING GLASS WATER BOTTLES
Specs: Anchor Hocking's glass water bottle has a splash-proof screw-on lid + top slide on the lid for drinking + double-insulated for hot and cold drinks + dishwater safe + BPA free + free of phthalates, PVC and lead.
I recently saw this glass water bottle at Winners and London Drugs (in Canada), both about $7.99. The lid is a pretty green, but the problem I foresee is that for my hands the width of the bottle was too wide and I would surely drop it, especially since it doesn't have a silicon sleeve or anything to grip onto. The price is great though. At Reuseit, the bottle is $13.95 HERE, and at Walmart it's $10 HERE.
I love this idea! At Faucet Face, 5% of the profits from each bottle sold will go toward building BioSand filters for people in rural India (read more here). Yay for tap water; I may filter it but I still drink it!
One bottle is US$15.00; two bottles – US$25.oo; three bottles – US$35.oo = portion of the sales combined with other buyers to purchase a filter for rural India.

Four bottles for US$45.00 = a complete filter will be donated to a family in rural India on your behalf.
I've seen these Kerplunk! glass bottles before on discount at Winners.  Apparently they're also sold at Sears, The Bay, Roots, Whole Foods, etc. Find retail and online locations here. They have single-walled glass bottles for cold drinks, and double-walled ones for hot and cold drinks.
designed with maximum durability and an airtight seal

reusable, recyclable, transportable and dishwasher safe

equivalent to 2 cups or 500mL

ergonomic rim

wide opening for ice cubes, citrus slices, easy cleaning

made from recyclable glass

stainless steel handle (can be engraved)

reinforced glass base, similar to a wine bottle

based in Toronto

1% of revenues from the sale of the bottles will be given annually to

the charity, 1% for the Planet

buy online

here

@ Tkaro
designed by architectural art glass designer Laurel Herter

use recycled glass

22-ounce glass bottles have wide mouths and comfortable rounded lips

food-grade silicone creates a leak-proof seal and is attached with a leash


silicone rings slide into the bottle's ribs for better "gription."

no plastics in the bottles, caps

no BPA's or other chemicals leach into your water


sourced and crafted in North America

Colours: green, orange, blue, black

Buy online for US$25.95

here

@

Bottles Up
These Libre glass-lined tea holders are double-walled with an exterior of polycarbonate for resilience. This would be fantastic for hot beverages…mmm, tea! They also have a glass'n'glass version here. Buy 'em here.
6-pack Aquasana® 750 ml glass bottles

Lead Free Glass – 100% Silica
This AquaKoozy protects the glass water when you're on the go. US$10.39

here

@ Aquasana.
I went to Starbucks the other day for a hot chocolate fix when I saw their version of the glass water bottle with silicon-sleeve on the shelf. It's quite pretty actually, with panels in the silicon to show off the glass bottle underneath. It's holds 16 oz and retails for US$16.95 (in Canada it was about $20). You can find in the stores, or online at their shop here. The silicon sleeve comes in opaque white, green, or blue, and now raspberry. 
I recently bought the blue one at a local Starbucks. I have to say you have to thoroughly wash the bottle (especially the cap) because the first couple times I used it, the akaline filtered water I drink tasted very chemically and plastically. It's probably because I was smelling the silicon stopper that's inside the cap. But once I thoroughly washed the heck out of it with Brommer's Magic Soap, the awful taste/smell went away.
The good thing about this glass water bottle, compared to Lifefactory one, is (A) it's a lot more lighter (better for my work bag); (B) doesn't leak — the handle moves back/forth to "lock" the lid on; (C) the cap is attached to the bottle, so my hands are free, whereas with the Lifefactory one, the cap comes off completely and you have to hold it in your hand or set it down somewhere to drink from the bottle — a tad annoying when one is a multi-tasker!
Love bottle is a reusable glass water bottle made partially from recycled glass. 

It has a ceramic swing top lid that creates a water-tight seal.

Customize your love bottle: the design allows you to write and draw on the printed areas of the bottle. 

Place silicon bands around the bottle to add color and words, and to improve grip.

Add stickers to personalize your bottles. You can choose stickers with a preprinted design or blank stickers that you can design yourself. Bands and stickers are available on this site, or you can use your own.C

Comes in 500 ml and 1000 ml bottles

 Love bottles are made responsibly in China. The company, Love Bottle Co., is based in San Francisco, and the bottles are housed and shipped out of Oakland, CA

Offer quantity discounts

Love Bottle also sells neoprene drawstring bottle carriers that have an adjustable strap. The covers come in two colors and in both bottle sizes. They also have cooler carriers that keep your love bottles cold for hours

Currently, there are 14 bottle designs as well as blank bottles available in both sizes. PS: If you are interested in submitting a design, please click

here

to find out how and to get our bottle template. If your design is selected you will receive 24 bottles with your design to share with friends and family and a $75 credit at our online store.
WEBSITE

HERE

.
My hot-yoga studio sells Voss as their in-studio water. Its sleek case is made from glass and the water inside is sourced from Norway. You usually find Voss in fancy restaurants, but you can also find in random places like (in the case of Vancouver, BC) London Drugs (a pharmacy chain). For less than $10 you can purchase a takeaway glass Voss bottle of water in 800ml or 375ml sizes (apparently other sizes too). Then you can use its glass bottle again and again as your water carrier, as some of my yoga buddies do.