(credit: Design Love Fest)
ROSEWATER MIST LOVE
Oh, how I love the scent of roses! I wear tuberose oil as perfume. I love rose-macarons. I love drinking Numi's Organic White Rose Tea. I love that my shower smells "pink" after cleansing with Dr.Bronner's Magic Soap in Rose. I love rosewater-scented Turkish Delight (it also reminds me of Narnia). I would love to go to Turkey to have rose-petal jam swirled in thick yogurt. And, of course, a girl always loves receiving bouquets of long-stemmed roses.
But my favourite way to enjoy roses is with rosewater mist…which I spritz throughout the day to perk me up and soften my dry skin.
BENEFITS
For me, rosewater mist seems to help my skin retain its moisture by smoothing, balancing, softening, and nourishing it. Apparently, rosewater is chockfull of antioxidants, a high concentration of vitamin c, and serves as a natural antiseptic due to its anti-inflammatory and anti-bacterial properties. It's gentle enough to tone the skin and balance the pH of your skin too (tone it up to keep skin supple!). 
Since I adore the scent of roses, I love the added benefit of rosewater as aromatherapy — a quick spritz smells divine and acts as the best pick-me-up midday. It's even better when cooled in the fridge and spritzed onto the skin on a muggy day.
It's so lovely that in aromatherapy, rosewater is said to open the heart-chakra, allowing you feel loving and lovable. It's even used during marriage ceremonies in India to welcome guests to the spirit of love. Awww…
BOTTLE IT UP 
True rosewater is distilled from Damascus roses harvested during its peak months of May and June. The rose petals are hand-plucked from the stem and crushed to release its oils. These crushed petals are then steamed to produce droplets that are collected to become bottles of rosewater.
GET PURE ROSEWATER 
Now be careful that you buy rosewater in its 100% purest form — that is, rosewater that is steam-distilled the traditional way. Otherwise you'll be spritzing synthetic rose oil mixed with water and preservatives! Ugh. 
I personally buy my rosewater-mist at my local natural food store (which happens to be Whole Foods), and I read the label carefully — almost religiously, squinting on the small print and processing info like the total nerd I am.
At Whole Foods, my go-to favourite right now is the rather affordable Heritage Store's Rose Petals Rosewater (Eau de Rose) aromatherapy mist. It's only about $9.00 Cdn (240ml/8fl.oz), smells divine, and does the trick. Click below to see other rosewater products…
OTHER ROSEWATER MISTS/SPLASHES
Jurlique's Rosewater Balancing Mist: "A daily hydrating mist featuring the relaxing scent of rose that restores and hydrates the complexion and is ideal for normal/combination skin types." This mist also has glycerin and marshmallow to prevent moisture loss; aloe vera to calm the skin; and grapefruit seed to provide added antioxidant protection. $35.00 (100ml).
Burt's Bees Rosewater & Glycerin Toner: "Improve your skin's tone and texture in one easy step. Natural rosewater, aloe vera and glycerin in this formula gently purify and tone delicate facial skin, leaving it refreshed and younger looking." $14.99 (235ml/8 fl.oz)
Mario Badescu Facial Spray with Aloe, Herbs & Rosewater: "A refreshing, hydrating mist to use anywhere anytime. Simply formulated with fragrant Herbal Extracts and Rosewater for a pleasant, pick me up for dehydrated, tight and uncomfortable skin. Spray your day and night creams for a boost of hydration or use it to set make-up or spray on dry hair throughout the day." $12.00 (8oz)
Reviva Labs Rosewater Facial Spray: Natural extract of rose oil makes this Facial Spray very refreshing and stimulating. For male and female athletes, this mist is a great refresher and cleansing aid. Skin will look fresher, feel softer and subsequently look better. Benefits: refresh skin & set makeup, spray away perspiration, moisturize skin & hair in dry weather."  $9.00 (8oz)
Boots Botanics 100% Organic Rosewater Toning Spritz: "Visibly tighten pores and remove the last traces of makeup with this rosewater toning spritz from Boots. Part of the Botanics Organic collection, it naturally cleanses without drying, leaving your skin smooth, supple and toned. Mineral Oil-free, Paraben-Free. Also contains: Alcohol Denat (Organic Certified Ingredient), Glycerin (Organic Certified Ingredient), and Citronellol (along with water and rose oil). $9.00 (Target); 3.49 UK pounds (Boots Online); $8.96 (Amazon) and (Ulta) and (Drugstore.Com) and (Boots US).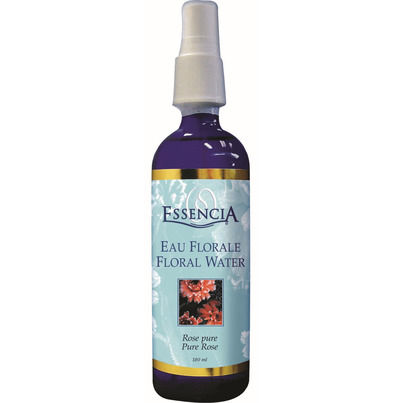 Homeocan Essencia Floral Water in Rose Pure: "Tonic, hydrating, softening and regenerating lotion. Excellent for reducing or preventing the appearance of wrinkles. Leaves skin looking radiant, sparkling and satiny soft." No alcohol. $14.99 (250ml). Online here or here [cheaper!] (Canada), here (USA), and I've seen it sold at Whole Foods.
Thayers Alcohol-Free Rose Petal Witch Hazel Toner: My second favourite — but it's more of a traditional toner than a mist…and it has a billizon other ingredients in it. "Thayers Rose Petal Alcohol-Free Witch Hazel with Aloe Vera Formula Toner will make your skin bloom. Rose Thayer's remarkably soothing Toner is made with rose-petal water, Vitamin E and our proprietary Witch Hazel extract." $9.95 (120ml).
OTHER PRETTY ROSEWATER GOODIES
* Rosewater Marshmallows (recipe @ The Pretty Blog)
* Rosewater Limeade (recipe @ Blommi)
* Raspberry & Rosewater Panna Cotta (recipe @ Caroline Velik)
* Rosewater & Turmeric Almond Milk (recipe@ Hortus Cuisine)
* Pistachio Rosewater Cupcakes (recipe @ Tasty Kitchen)
* Cardamom Rosewater Cocktail (recipe @ Design Sponge)
* Fresh & Spicy Rosewater Margarita (recipe @ JJ Begonia)
* Ayurvedic Rosewater Lemonade (recipe @ Joyful Belly)
* Cardamom Rosewater Tea Cookies (recipe @ In Sock Monkey Slippers)
* Pistachio & Rosewater Bastani or Icecream (recipe @ Javane's Kitchen)
* Rosewater Cardamom Lassi (recipe @ Food Loves Writing)
* Rosewater Pudding (recipe @ Saveur)
* Lychee & Rosewater Sorbet (recipe @ Honest Cooking)
* Chia Seed Pudding Breakfast Pots with Raspberry Rosewater Sauce (recipe @ Gourmand in the Kitchen)
* Meccan Sweet "Coffee" (almond milk + rosewater + cardamom) (recipe @ Je Suis Alimentageuse)
(credit)
(credit/source: 1, 2, 3, 4, 5, 6)