FOR THE LOVE OF TIFFANY
Secret guilty pleasures. A bit indulgent and materialistic. I know, I know. Oh honey, I'm a Capricorn so I like fine things. Not all of the time, but once in a while. I don't expect it, but it doesn't hurt.
My go-to delight? Tiffany & Co. Yes. I admit it. My eyes light up and go all gooey when presented with the classic tiffany-blue box with the white satin ribbon. I melt. I die. I *squee*. I *jumpy clap*. And my certain someone can do no wrong in my induced Tiffany & Co coma.
Tiffany & Co. gifts are to be bought for you. A lady doesn't necessarily need to receive gifts from Tiffany & Co, but she definitely wants to. It's about refined taste and femininity and simplicity. 
I feel lucky to have some pieces that are not too extravagant, but lovely and refined. A lady doesn't need anything tacky, over-the-top and precious, instead this bauble will do. It's simple. Classic. Elegant.
TIFFANY's RETURN TO TIFFANY HEART-TAG CHARM BRACELET
I have this heart tag charm bracelet from Tiffany & Co but I don't wear it often because it's hefty and often gets in the way when I'm working. It was a gift that I was most delighted to receive.
When I have children, I believe it's imperative (damn, straight! come on, people, it's labour) that I receive some charms for it as my "push present" — you know, charms that are the initials of my children's names. Corny, right? 
ELSA PERETTI OPEN HEART SILVER PENDANT
Yes. It's simple. Mine is directly from the flagship shop in New York City. Unfortunately I broke the chain, so it's been languishing in my jewelery box waiting for a replacement. See it here.
ATLAS RING 
I wear this ring all the time. I never take it off, unless absolutely necessary. It sits on the finger beside my pinky of my right hand. The Atlas ring is a classic band etched with roman numerals. My ring is at least 15 years old, so it doesn't look exactly like the one in the picture which is a newer model. See it here.
RETURN TO TIFFANY DOUBLE HEART PENDANT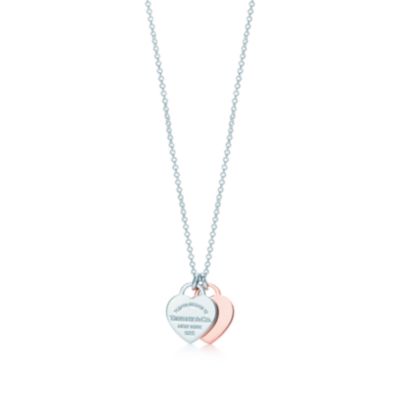 For my last birthday, my parents gifted me with this double-heart pendant. It's lovely and delicate. See? Even my parents know of my love-on with Tiffany's. 
AND SO IT IS
This lady right here (pointing at myself) starts to babble incoherently and fan herself when confronted with a Tiffany & Co blue box. Now, I'm truly serious when I say I don't necessarily need any more…I'm good. But then again, I did say that a lady doesn't need Tiffany baubles, she wants them. 
While I'm not a brand-name, high-maintenance gal (no designer purses, no fancy car, no Holt Renfrew/Barneys/Nordstrom wardrobe), I do like beautiful refined baubles once in awhile. Not tacky ones. No. But definitely the classy elegant things in life. I do not and shall not apologize for it. It's my happy place. 
[Originally posted on November 2011, but I had revise because I received another bauble]